18 jan

SOUP SHARE

Geplaatst op 13:43h

in

BLOG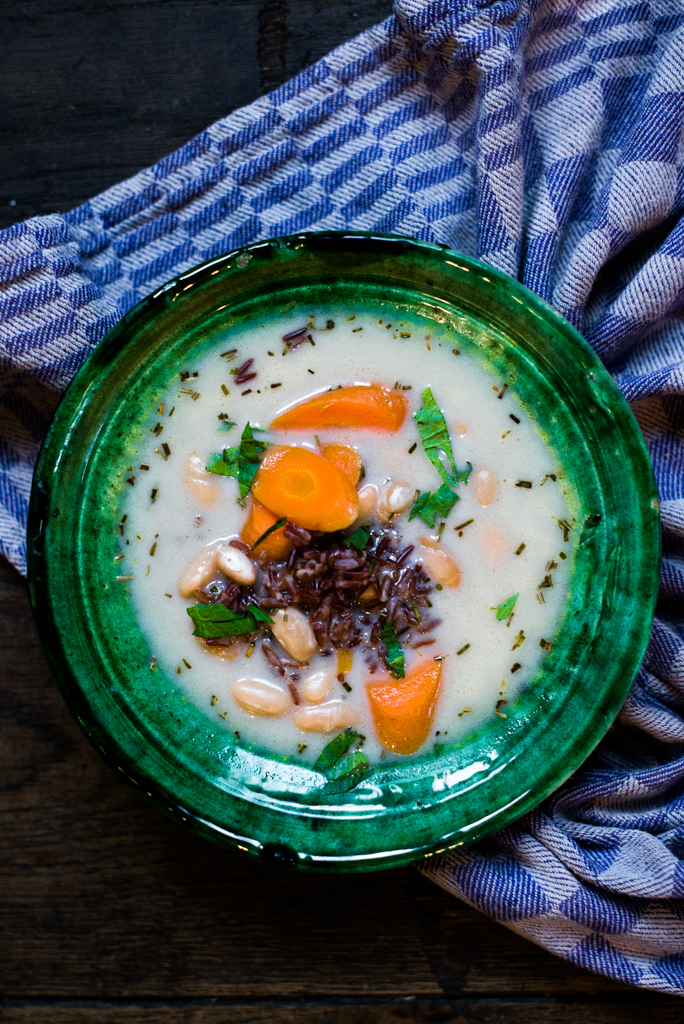 How cool is it, that this plant-based diet is so amazing and benefits all that you can actually sit down beside your furry babe and enjoy a good meal together.
That is why we teamed up with Verhuisdieren.nl for this recipe because we all love to share meals with our four-legged besties and have fallen in love with this simple but most yummy soup.
Enjoyment guaranteed by doggies and humans alike.
The recipe was created accidentally during the marketing of the book DOG.EAT.PLANT.. When vegan chef Maartje Borst and author Lisette Kreischer were shooting photographs of Mr. Pooh for the promotion of the book, they all suddenly felt very hungry. Leftovers from the day before, a beautiful herb and some simple ingredients were thrown into a pan and a fantastic palette of taste was the result. Maartje, Lisette and Mr. Pooh enjoyed it equally.
Recipe for about 2 people and 1 dog
Ingredients
100 g carrot, cut into slices
1 to 2 tsp dried rosemary needles (depending on how strong you like it)
1 can (400 g) butter beans (incl. moisture)
700 to 750 ml of water
a splash of oat milk
125 g cooked red, black or brown rice
freshly ground black pepper to taste
Extra for people
salt to taste
spring onion, cut into rings
Put the carrot slices together with the rosemary and the contents of the can of butter beans (liquid + beans) in a pan. Add the water, bring to a boil and simmer for 10 minutes (the carrot slices should be tender). Turn off the heat and add a splash of oat milk and the rice. Stir well. Season with black pepper.
For people: Divide soup over two bowls. Season well with salt and decorate with spring onions.
For dogs: Put some soup into a bowl, but with a little less liquid and let the soup cool before serving (make sure that the dog does not get a bowl with salt and spring onion!).
Enjoy!!
PS: This is of course a tasty snack, but not a complete meal for the dog. In the book DOG.EAT.PLANT. we extensively discusses what a dog needs and how you can prepare a balanced plant-based meal for your four-legged friend. But it's okay to vary every now and then with something as fun as this soup! Keep in mind that there are a number of things humans can eat while dogs cannot and keep the salt and fat levels low. You can also read more about this in the book.
(Note: The weight of the rice in the ingredients list is for cooked rice, because not all rice has the same cooking time. Follow the instructions on the packaging to well cook your rice. In addition, not everything can be cooked at the same time together with the rice, because the rosemary will be too overbearing.)