12 feb

WOOF HEARTS

Geplaatst op 12:16h

in

BLOG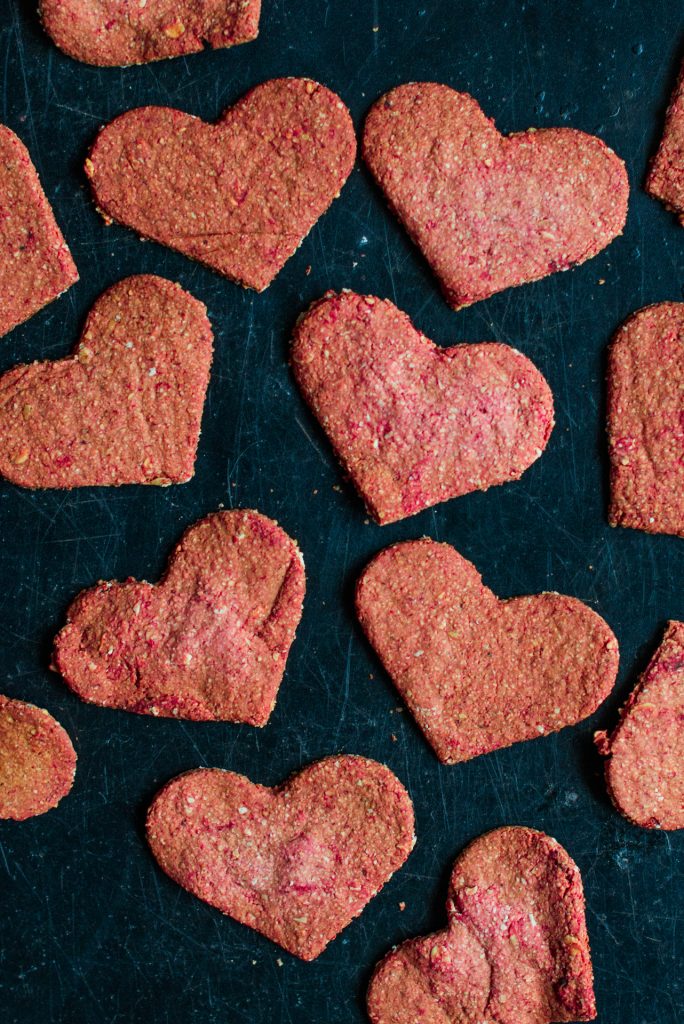 Although we believe everyday should be Valentine's day and every day we should love the hell out of our hairy friends, the Earth and all creatures great and small we could not not share this adorable recipe on this particular day of the big L.
Happy Valentine dear peeps and snouts!
Recipe for WOOF HEARTS
Serves about 14 cookies
INGREDIENTS
100 g + 1 tbsp rolled oats
½ tsp baking powder
½ tsp corn starch or arrowroot
pinch of salt
1 banana
2 tbsp light or dark tahini or peanut butter
1 tsp olive oil
3 tsp beet powder (optional for pink coloring – this works best if you choose light tahini)
2 tbsp vegan yogurt
PREPERATION
Preheat the oven to 170°C/338°F.
Blend 100 g of rolled oats in a high speed blender into flour. Put the flour into a bowl and mix with the 1 tbsp of rolled oats, baking powder, corn starch and salt.
Mash the banana with tahini or peanut butter in a bowl (or blend in a blender). Stir in the oil, beet powder and vegan yogurt.
Knead all the ingredients into a dough. At first it will be sticky, but keep kneading, it will become smoother.
Roll out the dough between two sheets of baking paper. Remove the upper sheet and place it on the side. Use a heart-shaped cookie cutter to cut out the hearts and place each heart on the removed sheet of baking paper. Place the sheet with cookie hearts on a baking tray and bake till crunchy, ca 35 minutes.
Note: More recipes for snacks and meals? Check out our book!